Ten most expensive personalised number plates in British history
No one batted an eyelid when Roman Abramovich purchased the super luxurious private yacht, Eclipse, for €340 million. However, there were considerably more negative press when he spent a relatively paltry £285,000 for 'VIP1'. Perhaps the lack of practical utility of number plates renders their worth diminished in the eyes of the general public. Regardless, Mr. Abramovic's purchase price for VIP1 doesn't even make it into the top 20. Curious to find out which plates enter into our top ten list? Read on.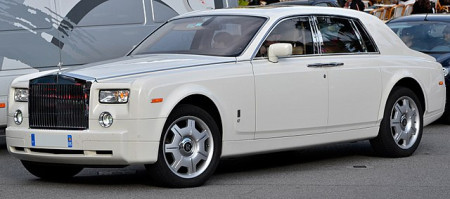 No. 10: £325,000 for GB1
The super patriotic GB1 was purchased at a DVLA live auction in 2009 and promptly assigned to a white Rolls-Royce.
No. 9: £331,500 for M1
The storied plate was one of the first ever plates purchased in 1904, and was used on a succession of cars, including a 16HP Clegg-Darracq which reportedly won a Grand Prix race in 1904. It was purchased by a phone bidder at an auction at the Goodwood Festival of Speed Sale on 7 July 2006.
No. 8: £340,000 for 1S
Another fabulous plate won at a DVLA auction in March 2010. Reportedly assigned to a Rolls-Royce Phantom
No. 7: £350,000 for JUL IE
Is there a more extravagantly perfect gift for a wife, if her name is Julie?
No. 6: £352,411 for 1D
No, neither Harry Styles nor Zayn Malik from One Direction purchased this. Instead, it was acquired by property developer Nabil Bishara in February 2009 as a birthday present for his wife.
No. 5: £397,500 for S1
This is the first ever number plate issued in Scotland, and was originally owned by the Lord Justice Clerk of Scotland, Sir John Hay Athole MacDonald.
No. 4: £440,625 for F1
Purchased by one of UK's top personalised plate speculators, Afzal Kahn. His hunch proved correct as the plate has already received a £6 million offer – which he rejected!
No. 3: £500,000 for G1
Little is known about G1, aside from the fact that it was sold at a private auction and is currently used by an Aston Martin.
No. 2: £502,500 for X1
Reportedly, it has been assigned to a Mercedes Benz Elegance. However, considering its over half a million pound price, one feels that it deserves a better host vehicle.
No. 1: £518,480 for 25O
How can a three character plate cost more than two character ones? Probably because it's a perfect match for the iconic Ferrari 250GT.