The history of car registrations
The era of vehicle number plates in the United Kingdom began on 1 January 1904 following the parliamentary passage of the Motor Car Act 1903. The act made it mandatory for all vehicles traversing British roads to display registration marks in the form of number plates.
Vehicle registrations, as well as tax discs, were originally issued by country and borough councils. However, a major reorganisation took place in 1974 which resulted in 81 Local Vehicle Licensing Offices (LVLOs), subsequently renamed Vehicle Registration Offices (VROs), taking control of number plate registrations. LVLOs and VROs were both under the purview of the Department of Transport.
By 1995, another Department of Transport's agency, DVLA, began took control of the vehicle registration process following the introduction of the Automated First Registration and Licensing (AFRL), one of the first major online databases created by the government.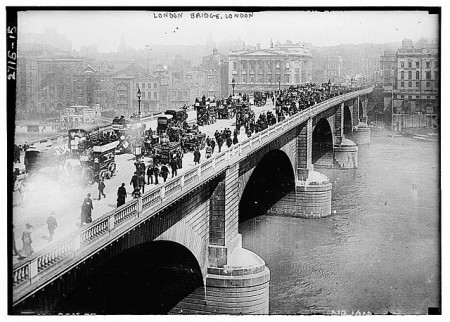 Traffic on London Bridge in 1910
Evolution of number plate formats and characters
During the early days, no one could have anticipated the growth in automobile ownership. As such, the formats used were rather limited. The first three formats issued by local offices were (L for letters, and N for numbers):
• Local Prefix System (1904 – 1932): LL NNNN
• Three letter local prefix (1933 – 1950): LLL NNN
• Reversed three letter local prefix (1951 – 1962): NNN LLL
The letters were acronyms for the geographic location of the registration office, while the numbers were random sequences. It took until 1963 before an age identifier tag were included in the marks. Thereafter, two more formats were used before we arrived at DVLA's present system.
• Suffix System (1963 to 1982): L NNN LLL
• Prefix System (1983 to 2000): NNN LLL L
Current system (2001 – 2051, est.): LLNN LLL
Each of the format listed above were changed because the sequences were exhausted owing to unprecedented rate of car ownership. It goes without saying that any private plate and personal plate registration must also adhere to the same formats.